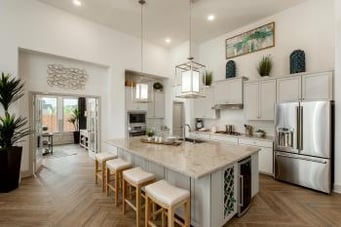 Plantation Homes Lowers Temperature On Electric Bills
May 10, 2019
Plantation Homes buyers will be able to turn up the air conditioning without raising their electricity bills with the return of the Beat the Heat sales event.
For a limited time, the builder will prepay two years' worth of electricity bills for people buying a new home from May 10 through June 30. The incentive is valid for all of the builders' Houston-area communities.
"We've been building energy-efficient homes for decades," said Paul Blackburn, region president for McGuyer Homebuilders, Inc. (MHI), parent company of Plantation Homes. "We know that triple-digit temperatures don't need to correspond with high energy bills. This promotion is an introduction to the idea that your new home can actually save you money."
Plantation builds each home to the platinum-level standards of the stringent Environments for Living program, an initiative that exceeds the well-known Energy Star guidelines.
Such homes use fewer natural resources, less energy, less water and less waste as well as creating healthier living environments.
In keeping with current home trends, Plantation Homes include smart home technology by the Control 4 Platform. Which offers additional energy efficient components.
Among other components, the Smart Home Technology package includes an Ecobee smart thermostat with built-in Amazon Alexa. Allowing homeowners to control their home's temperature and comfort settings through its touch-screen display, the Control 4 app, or by voice with Alexa. Ensuring homeowners can control their energy usage no matter where they are.
Smart light switches are also included in the Smart Home Technology package. As well as adding an aesthetically and practical interface to the homeowner's daily routine, it can also be programmed to turn on and off lights at dusk and dawn. Allowing homeowner's another opportunity to maximize efficiency of their energy usage.
Plantation Homes can be found in 19 communities. Homes are priced from the $190,000s to more than $500,000.
Parent company MHI has been building homes in Texas since 1988 and offers designs in Dallas-Fort Worth, Austin and San Antonio, in addition to Houston.