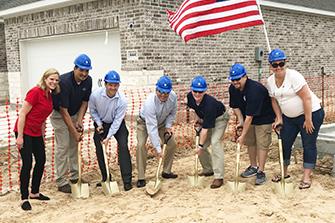 MHI Breaks Ground on Homes for Heroes Project
May 23, 2019
Houston, TX (May 2019) – McGuyer Homebuilders, Inc., (MHI) — in partnership with Building Homes for Heroes — recently broke ground on a new, mortgage-free home in Manvel for U.S. Army Specialist Jeremy Visbal and his family.
The May 18 ceremony was held in Pomona where the home is being built under MHI's Plantation Homes brand. The homesite was donated by developer Hillwood Communities.
"We couldn't be prouder to be associated with Building Homes for Heroes and with Hillwood," MHI Chief Executive Officer Gary Tesch told attendees at the ceremony. "All of our employees love being a part of this — to be able to give back a little bit for what you have done and sacrificed for everyone that is here. Thank you for everything. You'll be celebrating this Christmas in one of our homes in one of the best neighborhoods."
Visbal discovered he would be the recipient of the custom home during a surprise presentation at a Veterans Holiday Celebration in Pomona. The family will receive the keys to the home in another ceremony to be held in September.
Visbal joined the Army in 1997 and served 10 years. During his service, he experienced several combat incidents that led him to develop post-traumatic stress syndrome (PTSD). Plus, multiple Humvee crashes and exposure to IED blasts resulted in traumatic brain injury (TBI).
In addition, three of his four children have major health issues.
"I just want to say thank you to everyone for doing what you do and supporting veterans," Visbal told the crowd. "For giving them a home and for giving them that extra hope. My family and I could not be happier or more grateful for this gift."
This is the fourth mortgage-free home MHI has constructed. The home will be Plantation's one-story Avery design, offering four bedrooms, three baths, a game room and study within 2,785 square feet.
MHI has enlisted the aid of many of its building partners in the construction of this home including:
Acme Brick, Alfredo Hernandez, All-Pro Gutters, Alvarez Saldana, Baybrook Windstorm, Best Masonry, Big Tex-Lennox, BMC, Burgess, Carlos Robles, Chris Saldona, Control4, D&E Plumbing and DE.
Erosion Compliance, Evergreen Trees, Eyesite Surveillance, F.M.S. Surveying, Factory Builder Stores, Ferguson's, GAF, Garage Door Services, Garland Insulating, GE Appliances, Hoelscher Doors, Interceramic Tile, Jaimie Rojas, James Hardie, Joe Swartz Electric, Jose San Juan, KentMoore Cabinets and Kwikset.
Melesio Coronado, Miguel Lopez, Pablo Lopez, PPG, Progress Lighting, Reeder Tile, Romans Fencing, Royal Bath, Salvador Meridino, Sixto Rodriguez, Splash Water Irrigation Systems, Sprint Sand and Clay, Suncoast Post Tension, Swartz, Tru Team, TWI - Texas Window Industries, Tyvek, Vortex Turnkey Concrete, WBS, West End Roofing and Wisenbaker Builder Services.
For more details about Building Homes for Heroes , visit www.buildinghomesforheroes.org. For more information about Plantation Homes, visit www.plantationhomes.com.