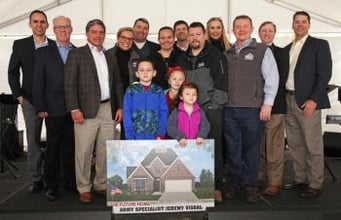 MHI Announces 4th Mortgage-Free Home for Veterans
December 11, 2018
HOUSTON, TX (December 2018) – McGuyer Homebuilders, Inc., (MHI) is once again saying, "Thank you for your service" by partnering with a charity to build a mortgage-free home for a military veteran.
This is the fourth such home MHI has constructed. This time, it is working with Building Homes for Heroes®, a national non-profit founded in 2006.
U.S. Army Specialist Jeremy Visbal found out he was the lucky recipient during a surprise presentation Saturday, Dec. 8. The Army veteran, his wife and four children were attending a Veterans Holiday Celebration in Manvel's Pomona community when it was announced the Visbals would be receiving the keys to a mortgage-free home next year in Pomona.
"I really don't know what to say but thank you," Visbal told the crowd attending the celebration. "It's always been my life goal to help people whenever I can, and I always told myself that one day something good would happen and today is that day. You have changed my family forever, so I want to say thank you to everyone involved. God bless everyone."
Specialist Visbal joined the Army in 1997 and served 10 years. During his service, he experienced several combat incidents that led him to develop post-traumatic stress syndrome (PTSD). Plus, multiple Humvee crashes and exposure to IED blasts resulted in traumatic brain injury (TBI).
In addition, three of his four children have major health issues.
"Receiving a mortgage-free home would provide peace and stability for my family and allow me and my wife to focus on our mental and health and tend to our children's ongoing health care and well-being," Specialist Visbal said.
The home is being built under MHI's Plantation Homes brand on a homesite donated by Hillwood Communities, developer of Pomona. The home will be Plantation's one-story Avery design, offering four bedrooms, three baths, a game room and study within 2,785 square feet.
"Specialist Visbal and other active and retired military have given so much of themselves to protect our country and our way of life," said MHI Chief Executive Officer Gary Tesch. "We are honored and privileged to be able to build a home for the Visbal family."
In May, Tesch and others handed over the keys to a Plantation Homes design in Dallas to U.S. Army Specialist Daniel Dumas.
Building Homes for Heroes has steadily grown its program and expects to gift a milestone 200th home in 2019. It has been rated four stars — the highest number possible — by Charity Navigator, the nation's largest charity evaluator. For more details on the non-profit, visit www.buildinghomesforheroes.org.
McGuyer Homebuilders, Inc., builds throughout Texas under the signature brands of Coventry Homes, Plantation Homes and Wilshire Homes. Plantation can be found in 19 Houston-area communities and 15 developments in the Dallas-Fort Worth region. For more information about Plantation Homes, visit www.plantationhomes.com.